Dunn County Snowmobile Association
Providing the Snowmobile Trail system within Dunn County
with the alliance of 14 clubs and the support of many landowners.
Posted: 01/05/2022 10:06 am
Status: Closed
Condition: Closed
Groomers out working the trails
The groomers will be out panning and packing the trails in some areas. Due to the wind, some areas may not be able to be done. Trails will remain CLOSED until we get more snow. 
Latest Events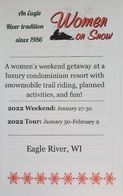 A women's weekend getaway at a luxury condominium resort with snowmobile trail riding, planned activities, and fun!
Thu, Jan 27th, 2022 8:00AM
Latest News
No News available at this time. Please come back later.