Dunn County Snowmobile Association
Providing the Snowmobile Trail system within Dunn County
with the alliance of 14 clubs and the support of many landowners.
Posted: 03/11/2019 10:32 pm
Status: Closed
Condition: Closed
STATUS UPDATE
ALL DUNN COUNTY SNOWMOBILE TRAILS ARE NOW CLOSED

PLEASE LOOK HERE FOR OFFICIAL 
DUNN COUNTY SNOWMOBILE TRAIL INFORMATION
Please Join a Club!
Dunn County Trail Conditions (715) 664-SNOW
TRAVEL WISCONSIN TRAIL REPORT

2018-2019 SEASON REPORT
Opened 8:00am 2/6/19 - Closed 8:00am 3/12/19
Latest Events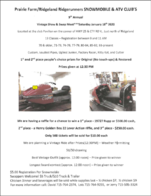 Praire Farm - Ridgeland Ridge Runners ATV / Snowmobile Club
RidgeRunners 9th Annual Vintage Show & Swap
Sat, Jan 18th, 2020 9:00AM
Latest News
No News available at this time. Please come back later.